Views: 337
Read Time:
3 Minute, 38 Second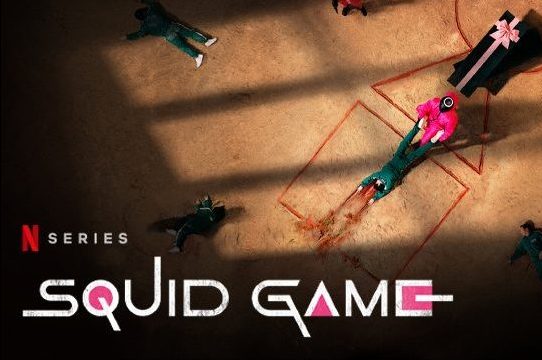 Squid Game Vs Hunger Game
Squid Game, the theatrical that has been dubbed the "Korean Hunger Games," is currently the most popular show on Netflix worldwide. And, if you've seen this web series, you'll understand why it's so popular.
If you've ever wondered what the Hunger Games would be like if they were played entirely with children's games, Squid is the answer. We never imagined that our childhood games could be so lethal.
This web series has risen to the top of the global rankings. It's a Korean fictional drama that takes the concept of "winner-take-all" to new heights.
This show depicts contestants playing a children's game at an advanced level, which has grave consequences. It was released on 17th September 2021 and within 19 days it has become worldwide hit.
Squid Game is "on the way" to becoming the streamer's "biggest show" ever.

Netflix CEO- Ted Sarandos
Plot of Squid Game
A warped thriller about 456 people who agree to compete in a kids game competition for a very healthy prize fund of 45.6 billion. What is the problem? Contestants are not informed ahead of time that failure to advance through any of the six rounds will result in their death.
This series consists of 9 episodes with 6 lethal childhood games and a prize pool of $45.6 billion.
The games included:
Red Light, Green Light
Honey Comb
Tug of War
Marble Game
Glass Bridge in 16 mins
Squid Game
Moving on with this article and web series, I'd like to point out that it includes some hidden clues that pointed that player 001 Oh Il-nam was the mastermind.
Hidden clues
1. The Mastermind Picked his favorite Games
One of the most telling signs that 001 was behind the games was his strange knowledge of, and love for, every game that was played.
But, of course, you'd enjoy every game in a competition if you were the one who chose them. Oh Il-nam was not an ideal 'Squid Game' player because he was old, frail, and sick. In fact, there were only a few people his age among the 456 contestants.
001, on the other hand, was ecstatic every time a game was played and in some cases, such as Tug-O-War, he even had an impressive strategy to win despite having a weaker team.

If you pay attention during Green Light, Red Light, Oh Il-nam, you'll notice that he knows the game song that the 10-foot doll sings so well that he even comes to a halt and poses in front of it, even calling out "Red Light"
Isn't it suspicious!!!
2. The Doll didn't Really Scan Player 001
Whereas I can't say for certain, when the movement detector was placed over 001, it lit up differently than everyone else. The green outline was accompanied by a green overlay for all other contestants, whereas Oh Il-nam (player 001) and those close to him, likely to prevent any potential misfire only had the outline.
3. Tie break Vote to keep the games fun
As the deciding vote, 001 allowed contestants to leave and come back willingly, ensuring that no one was forced to play. Aside from easing 001's conscience, this move meant that those who did return would not be boring because they knew that elimination would result in death. And, as we saw during the Glass Bridge game, when things got uninteresting, the VIPs were not fans of the games.

Furthermore, at the end of the series, Oh Il-nam revealed that Squid Game was created because these VIPs believed that "living is no fun" when you have too much or not enough money because "everything gets boring."
4. The player book of the year 2020 started at player 002
When Jun-Ho, a police officer, discovered the Squid Game records room, he opened the 2020 player book in the hopes of finding the file on his missing brother.
When he looked through the players in the current games, however, the number 001 was missing, and the file began at 002. This is due to the fact that the creator would not require any background of himself.
I came across some similarities and memes after watching this series, and I've included a link so you can check it out and enjoy this deadly child's play…